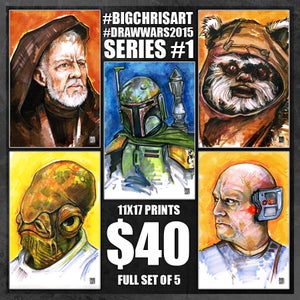 $

40.00
Ok peeps... you guys asked for it... so you got it!
I am releasing my first 5 #DrawWars2015 pics as a series to get to you in time for Christmas. Get the full set of 5 for only $40 (for a limited time). Series #1 consists of 11x17 prints of Ackbar, Ewok, Obi Wan Kenobi, Lobot and Boba Fett. Orders MUST be in by Monday Dec 14, 2015 to ensure a Dec 25th arrival.
A LIKE, COMMENT and SHARE of this link will qualify you for a spot in a drawing for a full set!!! Good luck! You guys rock!