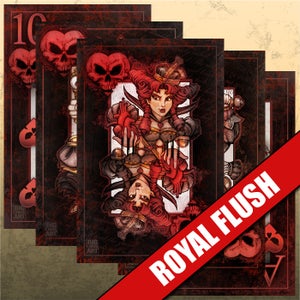 $

40.00 - On Sale
Buy the entire "Royal Flush" and get all five BAD ACE prints in one set. You get the Ace, King, Queen, Jack and 10. Save by buying the complete set and get 5 prints for the price of 4!
Additional Savings!
If you order the Royal Flush you can get half off one of the Bad Ace shirts by entering one of the following coupon codes during checkout:
KINGSHIRT - FREE* King of Hearts Variant tee
QUEENSHIRT - FREE* Queen of Hearts tee
QUEENPREMIUM - Half off the Men's Queen of Hearts Premium tee
*The system will only let us take 99% off the price so as free as we can make it.